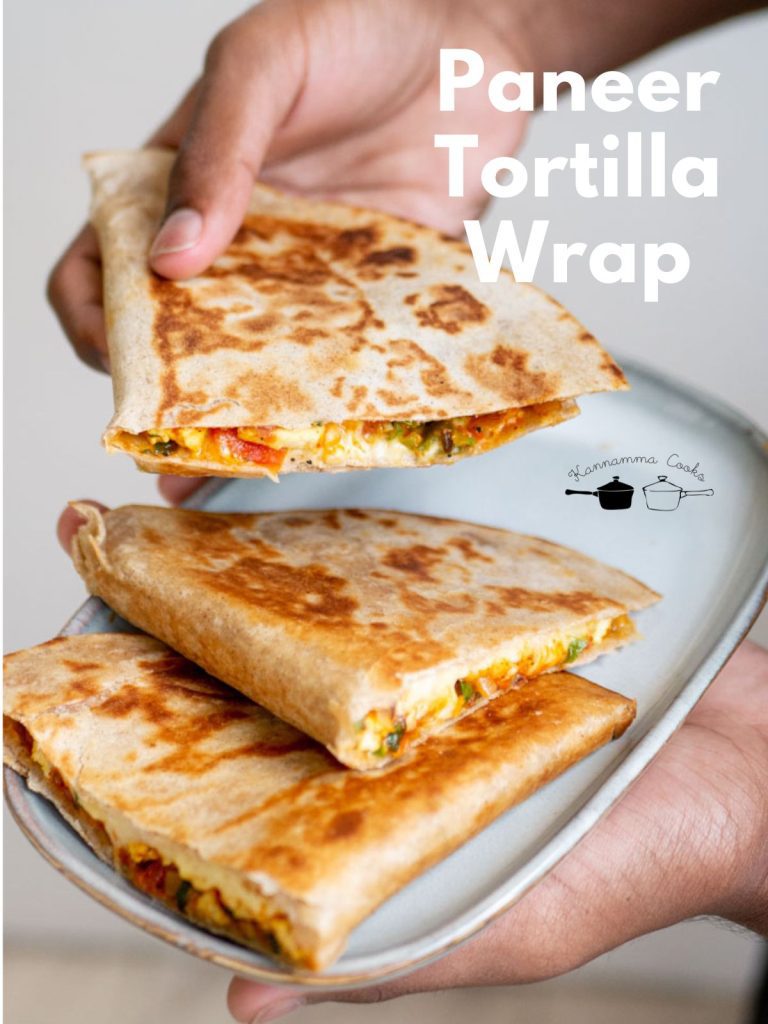 Paneer tortilla wrap – Easy and succulent after-school snack perfect for that quick bite. Easy to prepare and comes together in minutes
Here is a recipe for an easy and quick wrap made with paneer and veggies. Having tortillas or chapatis lying in your fridge can come in handy as you can put together a quick meal in minutes. The filling for this wrap has paneer, onion, tomato, capsicum, garlic, and a lot of spices. You can replace paneer with tofu or protein of your choice. Make the filling and alimony it ready in the fridge so you can pull a fantastic wrap in minutes when you want to make something for that quick bite. I have used readymade tortilla for this recipe but chapati will work just fine. I have widow grated cheese for that uneaten richness and it moreover keeps the filling together from falling. Hope you will try this recipe.
I have used Kashmiri red chilli powder mainly for the colour. As for the oregano seasoning, I have just used the seasoning packets that come withal when we order pizzas. I save it and use it in dishes like this all the time. If you do not have it, you can omit it or use any seasoning of your choice.
This recipe makes well-nigh 6 wraps that are filling and makes for a meal in itself. These wraps travel well too making it perfect for packing in a school lunch box or for a picnic.
Here are the things you can buy online for making this recipe
Multigrain Wraps https://amzn.to/3yzBsVq
Hellmann's Real Mayonnaise https://amzn.to/3ZY7Cpa
Cast Iron Skillet https://amzn.to/3ZGmxEB
Curry Masala https://amzn.to/402dHAR
Here is the video of how to make Paneer Tortilla Wrap | Easy And Succulent After School Snack Recipe | Paneer Wrap With Veggies
Print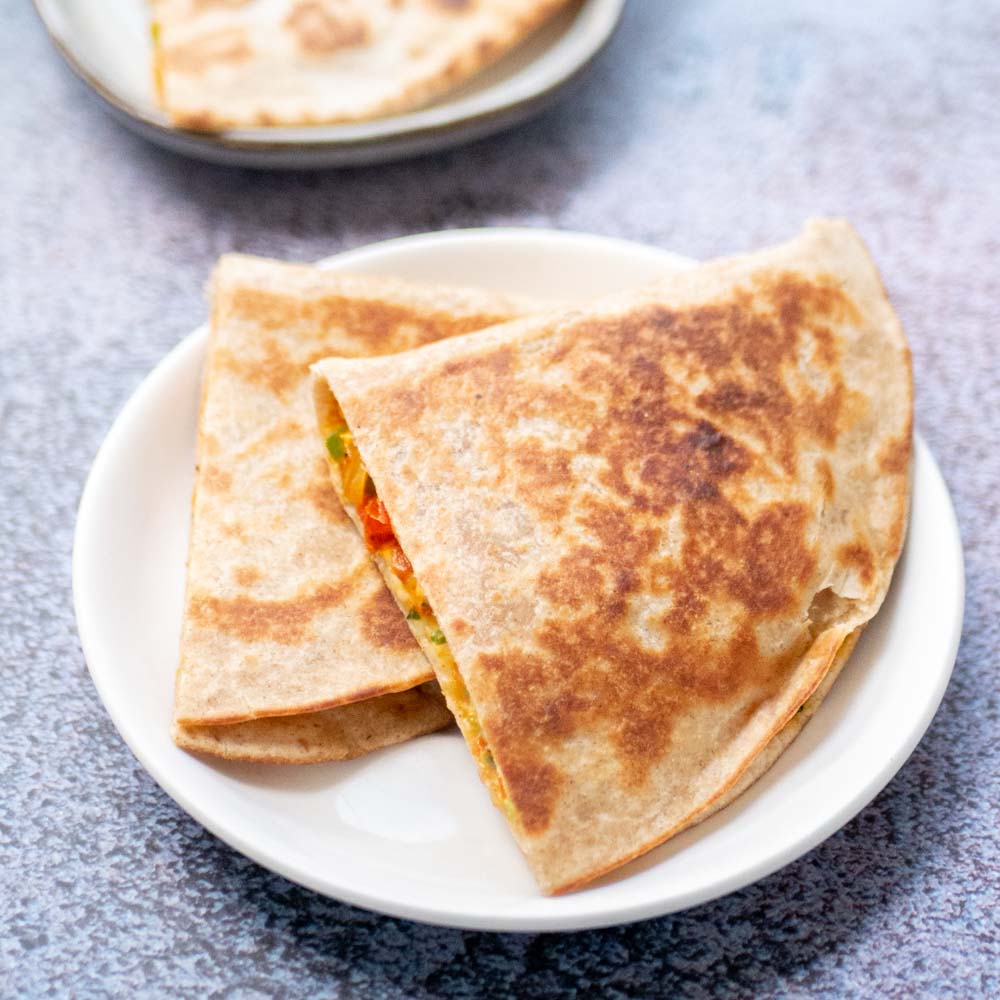 Paneer Tortilla Wrap
Paneer tortilla wrap – Easy and succulent after-school snack perfect for that quick bite. Easy to prepare and comes together in minutes
Total Time:

20m

Yield:

6 servings
For the filling
2 tablespoon vegetable oil
3 cloves garlic, minced
1/2 cup onion, finely chopped
1 untried chilli, minced
2 tomatoes, finely chopped
3/4 teaspoon salt
1/4 teaspoon turmeric powder
3/4 teaspoon Kashmiri red chilli powder
1/2 teaspoon woebegone pepper powder
1/4 teaspoon cumin powder
1/2 teaspoon curry masala powder
3/4 teaspoon oregano seasoning
1/2 teaspoon sugar
1/4 teaspoon cumin seeds
1/2 cup untried tintinnabulate pepper, finely chopped
200 grams paneer – cubed into small pieces
2 tablespoons coriander leaves, chopped
Other Ingredients
6 tortilla or chapati
6 teaspoon mayonnaise
3/4 cup grated Mozzarella Cheese
Ghee or vegetable oil for making tortillas
Instructions
For the filling
Heat oil in a pan and add the garlic and the onions. Saute till the onions are soft. Once the onions are soft, add the untried chillies, tomatoes and salt. Melt for a few minutes till the tomatoes are soft and mushy. Add in all the spice powders, sugar and cumin seeds. Mix well to combine and melt for a minute. Add the capsicum and paneer and melt for a minute more. Finally, add the coriander leaves and switch off the flame. The filling is ready. The filling can be stored in the refrigerator for well-nigh a couple of days.
Making and grilling the wraps
Place a tortilla on a workbench or a plate. Apply a teaspoon of mayo on one half of the tortilla. Spread the filling on one half of the tortilla and flatten it with a spoon. Sprinkle cheese and fold the tortilla.
Gently remove the folded tortilla and place it on a hot griddle. Sprinkle a little oil or ghee and toast till the cheese melts. Serve hot!!! Enjoy!!
Author:

Prep Time:

10m

Cook Time:

10m
Keywords: Paneer Tortilla Wrap